What is FORTéFIED?
FORTéFIED was founded by Tomi Ayodeji, a Personal Development Coach on a mission to eliminate 'zombies' from the workplace (and in life).
Who are the zombies you might ask? Simply put they are individuals working without focus and confidence in the workplace. Individuals who recognise that there might to more to work than clocking in and clocking out. Individuals who feel stuck in their role and are in search of meaningful work. They are simply going through the motions.
As an experienced coach, Tomi works with clients in a one-to-one or group setting in order to plan their professional development journey particularly at periods of transition.
Having successfully navigated career change (read more in my story), Tomi is able to empathise with clients in search of meaningful and fulfilling work. She adopts a holistic approach and comes alongside clients to discover their authentic selves on to the journey to success.
With 15 years+ experience within the finance, non-profit and IT industry, Tomi also brings a practical and methodological approach, to the coaching process, that delivers results for clients.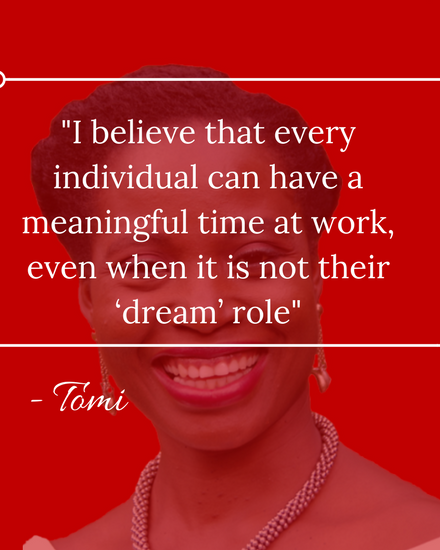 What is coaching?
If you are looking for someone to tell you how and what to do, then FORTéFIED is not the right fit for you. This is simply because the most effective way to sustain change and transformation is to discover how ourselves and do it our way; not because someone tells us to.
The purpose of coaching is to support clients in identifying their own path to success. It challenges the client to stretch to their fullest potential in order to achieve the desired outcome.
At FORTéFIED, the  approach is to come alongside you or your team and facilitate transformation in their personal development or performance.
"As a CEO, the dilemma of launching a business or not is certainly a stressful decision. During our coaching session, Tomi was able to understand what the issue was, ask the relevant questions, unlock the perceived obstacles and guide me to agree to doable and challenging plan. Her professionalism and coaching effectiveness were remarkable and unique.

The business today has been launched, and exceeding expectations. I would highly recommend FORTéFIED's coaching services.
– Mariano Costa, CEO, Core DNA Energy Solutions
More Testimonials
As an empathetic coach Tomi balances the right amount of challenge with a focus client's goals. She possesses a Certificate in Coaching from the University of Cambridge and is member of the Association for Coaching.